Welcome to the University of California San Francisco (UCSF) Genetic Counseling Program! We are thrilled to have you visit us. At UCSF, we endeavor to train genetic counselors that are able to meet the demands of the rapidly evolving field of contemporary genetic medicine and successfully practice in a wide variety of settings.
UCSF is one of the nation's premier academic medical centers and is dedicated to the scholarship and the success of all learners. This standard of excellence has infused all aspects of our Genetic Counseling Program (GC Program). As a strong partner in San Francisco area genetic counseling programs since the 1970s, we bring decades of experience training genetic counselors to all facets of our program, from veteran educators, to knowledgeable research mentors and skilled clinical training supervisors. 
Our vision is to produce graduates that excel in their field while advancing the practice of genetic counseling. Our mission is to create a nurturing and collaborative educational environment that fosters successful, independent learners through:
A rigorous, comprehensive curriculum reflective of contemporary genetics and genomics practice
Clinical experiences dedicated to the pursuit of excellence in patient care
Innovative research opportunities that support the development of clinical scholars
A commitment to the responsible and ethical application of genomic medicine in order to better the health of all members of our community
This is an exciting time to pursue a career in genetic counseling. We'd love to have you join us.
Interested in becoming a genetic counselor?
Visit the News & Events page to view the schedule of informational sessions for prospective applicants.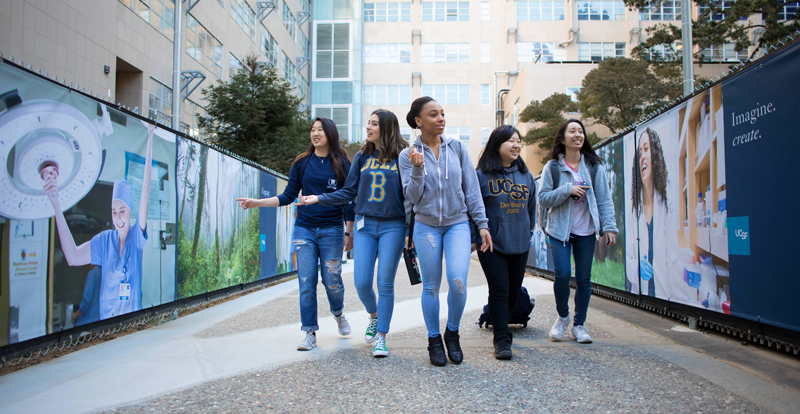 A Program for Everyone
The UCSF Genetic Counseling Program values diversity and recognizes that students from a broad range of perspectives improves both the practice of science and the educational experience for everyone. We are committed to inclusion, diversifying the genetic counseling profession, and advocating for diversity in our students, their experiences, and the people we serve.
UCSF welcomes applications for admission from undocumented individuals, such as those who qualify under Deferred Action for Childhood Arrivals (DACA) and/or AB540. Please visit the website of the UC Office of the President (UCOP) for more information. 
Read about the Graduate Division's diversity and outreach programs.
The UCSF Genetic Counseling Program is accredited by the Accreditation Council for Genetic Counseling (ACGC) — 7918 Jones Branch Drive, Suite 300, McLean, VA 22102. Phone: 703.506.7667